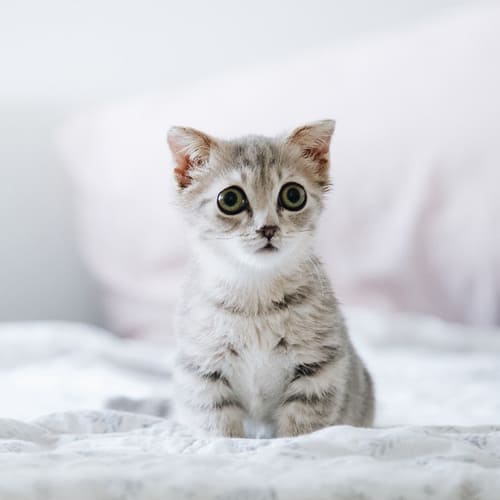 kitten insurance
Insurance for your kitten
There's nothing like the soft fur, the purrs and the pitter patter of kitten feet after you bring home your new friend! That feeling you get when your fur baby curls up on your lap, padding your leg as they find the right spot is priceless. And it's moments like this that is the reason you decided to bring a kitten into your life.
While your kitten is young

By now your phone should be filled with photos from every angle of your brand-new kitten. Photos of them sleeping, playing, napping, laying in the sun, clawing something they shouldn't… Because while your new best friend is cute, they don't always do as they're told.
Luckily, our kitten health insurance is designed for those little felines whose behaviour isn't quite 100% obedient. Because the best pet insurance for kittens covers them for the adventures and the silliness.
Kitten insurance plans are our jam. We focus on being the boring sensible ones, while your new kitten gets to be the silly, playful fun one in your life.
But more on kitten insurance later!
Right now, we want you to go any play with your new feline friend. But before you do, we want to leave you with a gift.
Click the button below, and we'll send you a booklet on Avoiding the Rookie mistakes with your new kitten. In this handbook, we cover everything from worming and ticks to toilet training your kitten. Plus, there's a lot more fun and interactive things in there too!