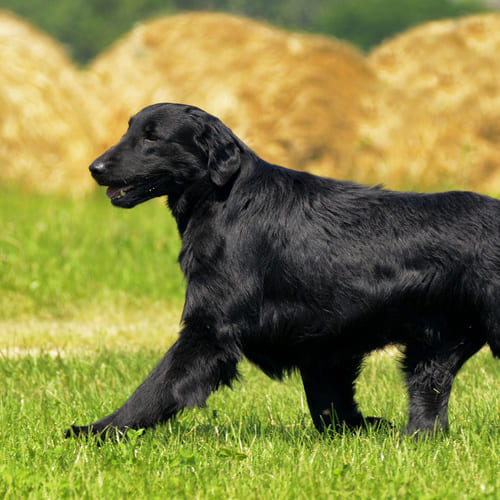 Flat-Coated Retriever
"Midnight"
Flat-Coated Retriever profile
| | |
| --- | --- |
| Friendliness with people: | |
Lifespan: 11-13 Years
Avg height: 56-61cm
Avg weight: 25-36kg
Coat type: Straight, medium-long coat with feathering over ears, chest, belly, legs, and tail.
Coat colours: Black, liver, yellow
Originally bred for: Retrieving.
Breed traits: Optimistic, outgoing, friendly, devoted.
A little about the Flat-Coated Retriever
The Flat-Coated Retriever is a handsome dog with a sweet personality. As one of the original bird dogs, they need a large amount of exercise and love to play. Incredibly devoted to their family, they are most well known for their wagging tail and companionship.
FLAT-COATED RETRIEVER HEALTH INFORMATION
The Flat-Coated Retriever is a beautifully natured dog but unfortunately is prone to a number of diseases. These include orthopaedic conditions (Canine Hip Dysplasia and Luxating Patellas), eye conditions (Entropian, Glaucoma) and some cancers (osteosarcoma, malignant histiocytosis, haemangiosarcoma, lymphosarcoma, fibrosarcoma). Whilst cancer cannot be tested for, breeding dogs can be screened for hip and patella disease.
Please be advised the information provided is purely an indicator of breed traits and characteristics and that within some breeds there can be significant variation.
Hear from our customers
"I've never had such a good experience with an insurance company. Such a good experience during such a difficult time". – Sandra, owner of Ide in NSW.