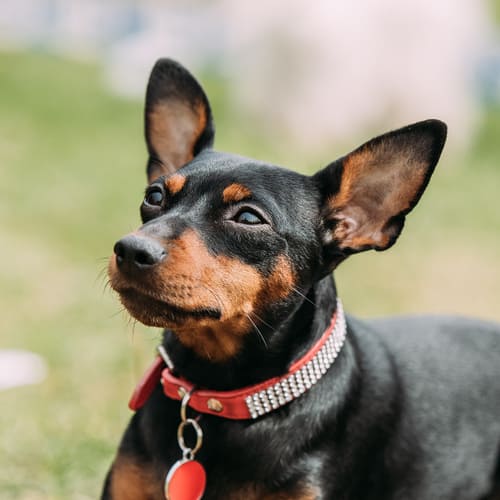 Miniature Pinscher profile
| | |
| --- | --- |
| Friendliness with people: | |
Lifespan: 14-15 Years
Avg height: 25-30cm.
Avg weight: 4-5kg.
Coat type: Short, smooth, glossy coat.
Coat colours: Black and tan, red, chocolate & rust, chocolate & tan, black & rust.
Originally bred for: Farmyard rat catcher.
Breed traits: Lively, playful, energetic, outgoing, smart.
A little about the Miniature Pinscher
The Miniature Pinscher or "Min Pin" as it is affectionately nicknamed, is a pint-sized packet of never-ending energy. They are playful and tenacious and are constantly on the 'go'. Though they can be wary of strangers or other dogs, they are devoted to their family.
MINIATURE PINSCHER HEALTH INFORMATION
Diseases the Miniature Pinscher may be predisposed to include: Legg-Perthes, Cervical Intervertebral Disc Disease, Patellar Luxation, Hypothyroidism, Valvular Heart Disease (mitral valve insufficiency) and Mucopolysaccharidosis Type 6 (MPS-V1).
Please be advised the information provided is purely an indicator of breed traits and characteristics and that within some breeds there can be significant variation.
Hear from our customers
"I've never had such a good experience with an insurance company. Such a good experience during such a difficult time". – Sandra, owner of Ide in NSW.