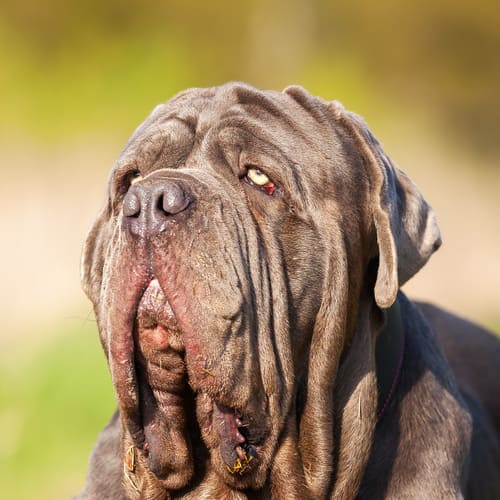 Neapolitan Mastiff
"Caesar"
Neapolitan Mastiff profile
| | |
| --- | --- |
| Friendliness with people: | |
Lifespan: 8-10 Years
Avg height: 60-75cm
Avg weight: 50-70kg
Coat type: Short coat with a harsh texture.
Coat colours: Grey, black, mahogany, tawny. All may have tan brindling and white markings on the underside of chest, throat, and toes.
Originally bred for: Guardian.
Breed traits: Calm, friendly, loyal, watchful.
A little about Neapolitan Mastiff
Originally used as a guardian the Neapolitan Mastiff is a massive dog who is dedicated and faithful to their families but can be mistrustful of strangers. It requires a large amount of living space and socialisation from a young age is crucial.
NEAPOLITAN MASTIFF HEALTH INFORMATION
The very large breed Neapolitan Mastiff can be predisposed to the following diseases: Canine Hip and Elbow Dysplasia, Cardiomyopathy, Demodicosis, Cherry Eye and often require a caesarean section to deliver pups.
Please be advised the information provided is purely an indicator of breed traits and characteristics and that within some breeds there can be significant variation.
Hear from our customers
"I've never had such a good experience with an insurance company. Such a good experience during such a difficult time". – Sandra, owner of Ide in NSW.