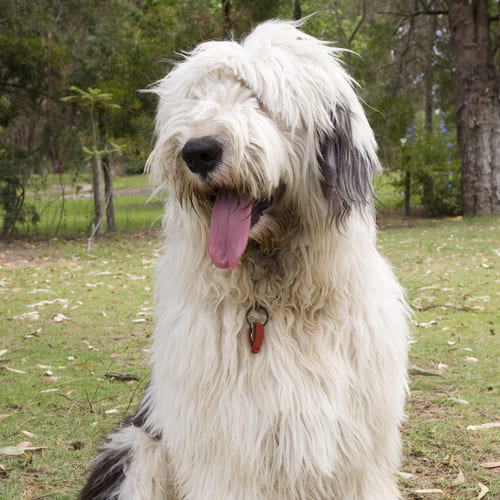 Old English Sheepdog
"Ivy"
Old English Sheepdog Dog profile
| | |
| --- | --- |
| Friendliness with people: | |
Lifespan: 10-12 Years
Avg height: 56-61cm
Avg weight: 27-45kg
Coat type: Very thick shaggy coat.
Coat colours: Blue merle, blue, grey, grizzle - all with degrees of white markings.
Originally bred for: Livestock guardian.
Breed traits: Intelligent, sociable, playful, highly affectionate.
A little about the Old English Sheepdog

The Old English Sheepdog is a big, strong, dog that is intelligent and easy-going. It needs a large amount of grooming and exercise to remain healthy and happy.
OLD ENGLISH SHEEPDOG HEALTH INFORMATION
Health conditions that may affect the Old English Sheepdog include: Canine Hip Dysplasia, Gastric Torsion (bloat), ear infections (Otitis Externa), Retinal Detachment, Progressive Retinal Atrophy, Cerebella Ataxia, Deafness and Hypothyroidism.
Please be advised the information provided is purely an indicator of breed traits and characteristics and that within some breeds there can be significant variation.
Hear from our customers
"I've never had such a good experience with an insurance company. Such a good experience during such a difficult time". – Sandra, owner of Ide in NSW.